A large part of what NOLA Pyrate Week stands for is GIVING BACK – helping out those who need, however we are able.
We help raise awareness and thousands of dollars shared among the charities, families & communities we support. Fundraising promotion continues throughout the year  – all donation links on this page are directly connected to the organizations they support.
Ahoy Captain John;
On behalf of our staff, deck hands, board of captains, volunteer mateys and the residents of the Lower Ninth Ward, me wants to thank ya for yer continued support of lowernine.aaarg and yer recent contribution of gold coin to our crew's booty. It's thanks to treasure like yers that we are able to continue the important work of returning families to their homes, and yer treasure raising efforts are greatly appreciated.
~ Laura Paul, lowernine.org
Here are a few kind words from folk who don't mind sharing in Pyrate treasure…
Thank you Pyrates! (lowernine)
Thank you for your donation! (Gulf Restoration Network)
Barataria-Terrebonne National Estuary Program – Thank You
Thank You For Your Donation (Goodchildren SAPC)
We are committed to preserving and rebuilding the wetlands of South Louisiana…
without them, we all sink!
In 2012 we were proud to be part o' the first Bayou Terrebonne Cleanup…
"Armed with our small army of volunteers, on March 31, 2012, the Barataria-Terrebonne National Estuary Program held the first annual BTNEP Cleanup Bayou Lafourche event.  The event was designed to remove trash from 106 miles of Bayou Lafourche in a three-hour time span.  We held a series of workshops where Alma Robichaux, BTNEP Education Coordinator, discussed with the site captains plans for the half-day cleanup.After the cleanup, the Nicholls State University Geomatics Class calculated the results of the trash removal from tally sheets used by our Site Captains.  A public presentation was given on May 10 revealing the results.  Over 1200 volunteers collected 17.97 tons of trash, averaging about 350 pounds of trash per linear mile along the bayou."
Our volunteers have done an incredible job working with lowernine.org – and we continue to support their efforts. Thanks to Rick, Laura, Lauren & Matt for giving Pyrates the opportunity to help out! YOU can always volunteer your time and talents to these organizations, or toss a few dollars along to help them with supplies & expenses!
Come join the crew and volunteer with lowernine.org – even one day helps rebuild family homes & communities! Click here to find out all about it.
The cost of rebuilding a house in the Lower Ninth Ward using only volunteer labor runs in the $12,000 – $17,000 range.

If 10 people to donate their time for just one day…that equates to 80 man hours worth of time and talent IN A DAY going toward restoration and rebuilding. If we can get that same 10 people to donate three days work, that equates to 240 hours!  It takes the average person more than 6 WEEKS to accomplish that – imagine the good this can do! Everyone is welcome to participate in this endeavour; please consider donating YOUR time during this event. If ye can't volunteer, please join us anyway and support the city & people of New Orleans (there will be fund raising events) and consider contributing to the organizations we're supporting below.
For more info, contact us.
Our mate (and lowernine.org neighbour), Roy (who bears an uncanny resemblance to a certain Trumpet player…) talks about his experience…

Lowernine.org's Lamanche Community Farm in the Lower Ninth Ward


LowerNine.org: A non-profit organization dedicated to training residents and volunteers in the Lower Ninth Ward of New Orleans, Louisiana, in the numerous skills necessary to bring this century-old historic neighbourhood back to life in the wake of Hurricanes Katrina and Rita. These skills run the gamut from basic to advanced house construction and rebuilding, but also include community gardening projects, emotional and social support services, social outreach and community development. We offer our services to all people, regardless of age, gender, ethnicity, physical abilities, religious beliefs or economic status. The Lower Ninth Ward, due to its proximity to the Industrial Canal levee breach, was one of the hardest-hit neighbourhoods in the New Orleans area. Rebuilding in the Lower Nine has lagged behind that of other neighbourhoods as a result of poverty, the scale of the devastation and local, state and federal government inaction.
To DONATE DIRECTLY to lowernine.org or to VOLUNTEER, visit their website (and let 'em know the Pyrates sent ye)
The Lower Ninth: K+36
(Photo Essay by M. Styborski)

TROUBLE THE WATER takes you inside Hurricane Katrina
in a way never before seen on screen
The Gulf Restoration Network is committed to uniting and empowering people to protect and restore the natural resources of the Gulf Region for future generations.
The Gulf of Mexico will continue to be a natural, economic, and recreational resource that is central to the culture and heritage of five states and several nations.  The people of the region will be stewards of this vital but imperiled treasure, and assume the responsibility of returning the Gulf to its previous splendor.
The seven priority issues of the network:
1. Stopping pollutant discharges;
2. Reducing polluted runoff;
3. Reducing Corps of Engineers' permitting and projects destructive of the environment;
4. Requiring sustainable management of Gulf fisheries;
5. Limiting coastal development, beach armoring, and resulting habitat destruction;
6. Protection of threatened and endangered species;
7. Limiting development of offshore mineral resources.
These organizations work closely together to restore, revitalize & replant the wetlands. Please visit both websites and consider donating or volunteering.

Barataria-Terrebonne National Estuary Program – a partnership of government, business, scientists, conservation organizations, agricultural interests, and individuals for the preservation, protection, and restoration of the Barataria-Terrebonne National Estuary in southeast Louisiana.
Bayou Grace Community Services - Providing Hope and Sustainability for the 5 Bayous
The Green Project: A non-profit organization dedicated to creatively promoting and encouraging environmental sustainability in New Orleans. We recycle building materials and paint, deconstruct homes and salvage usable materials.  We operate a building materials recycling store, promote community involvement and environmental activities, offer community space to other community-based organizations, and serve as an environmental reference resource for the Greater New Orleans area. 
Some of the things you might do as a volunteer at The Green Project include: organizing building materials in our warehouse, maintaining our garden center, managing our recycling, developing community outreach programs, assisting in our office, or assisting in our paint department. Our needs are different every day. Just show up with a positive attitude and we'll find a way for you to help!
To DONATE directly to The Green Project, click here – please fill in the "Dedication or Gift" box with NOLA Pyrate Week
St. Thomas Community Health Center: Our mission is to provide culturally competent health care of the highest quality, regardless of the ability to pay. We foster relevant research and educational activities directed toward achieving community-driven health initiatives that reduce health disparities in our community.
To DONATE directly to St. Thomas Community Health Center, click here – please fill in the "Dedication or Gift" box with NOLA Pyrate Week
NoLA Rising is a non-profit art initiative that promotes accessibility to art regardless of socio-economic status and aims to broaden perspective and opinion on public art. NoLA Rising began as a loose assembly of New Orleans artists and art enthusiasts intent on using the visual arts to revitalize a city devastated by one of the worst disasters in U.S. history.
Through the medium of community creative arts projects, NoLA Rising intends to reclaim and solidify New Orleans' standing as the cultural capital of the South. It will also further the broader goal of encouraging a cultural renaissance by engaging the community to work together to enhance the city's aesthetic quality through public artwork. NoLA Rising believes that participation in the visual arts not only helps to beautify our vibrant community and celebrate our cultural heritage, but also empowers the individual by facilitating creativity and aiding in the discovery of personal potential.
Visit the website to learn & support! Donations are tax deductible.

WAIF NOLA is a small, grassroots effort to help animals. We trap, spay/neuter and release feral cats, we help people get their pets spay/neutered and we help those who love their animals afford necessary medical care when the expense is too great. When we are able, we also rescue, rehab and re-home animals in need. It's a big job for just 2 people – but never underestimate 2 crazy ladies on a mission!
We work in a non-profit manner (although we are not yet 501C3, we work on a 100% volunteer basis which means that no one gets paid for what they do). Most of the money we need to accomplish what we do comes from our own pockets and from donations from caring people (like you)! We can use all the help we can get!
To donate time or funds to WAIF NOLA visit their website (tell 'em the Pyrates sent ye)

Goodchildren Social Aid & Pleasure Club:Our name is taken from the old name of St. Claude Avenue when it was named by Bernard de Marigny – Bons Enfants (Good Children). We love St. Claude and support our neighbourhood through celebration and cultural preservation – art, parades and other events – giving children of all ages something to believe in. We also support our seniors by donating funds to St. Margaret's Nursing Home.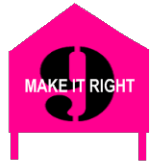 Make It Right: Our mission is to be a catalyst for redevelopment of the Lower 9th Ward, by building a neighbourhood comprised of safe, healthy & sustainable homes that are inspired by Cradle to Cradle thinking (everything we create can contribute positively to society, the economy, and the environment), with an emphasis on a high quality of design, while preserving the spirit of the community's culture. The goal is to accomplish this quickly, so that the first residents can begin returning to their homes as soon as possible.
When making a donation, please select "The House The Pyrates Union Built" under the Team Sponsored Home option. To DONATE directly to MIR 9, click here.
New Orleans Musicians Relief Fund: pays no office rent, utilizes volunteer social workers and hires only two employees to help your donation dollar go further. Founded by and for displaced musicians, the Fund has helped hundreds of still-displaced musicians with funds, instruments and housing as they continue to rebuild their lives. We primarily receive donated instruments these days, and find each of them a good home. A registered 501(c)3 organization.

Donations of time, talent, instruments and funding are accepted through the website
Ye may make a general donation to NOLA Pyrate Week…Donations o' yer doubloons are greatly appreciated and assist the crew in helping others. We put everything we have into this gathering – all our treasure goes back into the local economy; one way or the other! We do occasionally find ourselves a might short & yer doubloons help with costs associated with the basics – transportation, meals, the occasional bar o' soap…and on rare occasions, crossing the palm o' the right people to make things go smoothly! We are not-for-profit (though nothing official) and are always grateful to those who support us – and we'll always support ye in yer endeavours…often ye'll get a couple o' our own doubloons in return! Click the coin to help…
If ye'd like to be an Official Sponsor, please contact us.