Everyone expects Pyrates to have Rum…especially Pyrates!  This is one part  o' the "Pyrate Mythos" that is not only fact, but a keynote in the history o' both Pyrates and the Rum trade!
As spirits, extracted from molasses, could not well be ranked under the name Whiskey, Brandy, or Arrack, it would be called Rum, to denote its excellence or superior quality.

~ Samuel Morewood
While there is much discussion about where the name "Rum" originated, it is generally agreed it was first distilled in the early 1600s in the Caribbean. It was used aboard both Navy & Pyrate ships to prevent Scurvy on long voyages – this is the "Grog" ye've heard o' – mixed in small amounts with Lime or Lemon juice and Water. Pyrates were more likely to have fresh fruit included in their diet and did away with Grog in favour o' Bombo, a mix o' Rum, Water, Sugar & Nutmeg!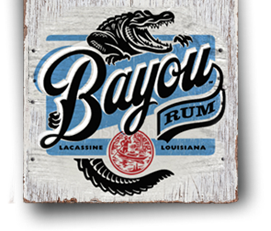 Fast forward from the 17th to the 21st century and Rum has become even better than before…and Louisiana (being "the northernmost Island o' the Caribbean") has finally come into it's own with the launch o' Louisiana Spirits and their locally made Bayou Rum!
Not only does this fine, local Rum come in both Silver and Spiced blends, but it is a family run business that supports other family run businesses in Louisiana! Bayou Rum is handmade in the largest privately-owned rum distillery in the USA – in Lacassine, Louisiana (just East o' Lake Charles). They use traditional methods; Copper Pots, triple-filtered Water, raw Unrefined Cane Sugar & Molasses (from M.A. Patout & Sons Enterprise Factory in Patoutville; over 187 years in the Sugar Industry) – all pressed from fresh sugarcane harvested from Louisiana fields! This is combined with state-of-the-art technology for all four steps: fermentation, distillation, maturation, and bottling…and, aye, ye can visit the Distillery for tours!
The Silver Bayou Rum is a smooth and clear drink perfect for mixing yer own concoction and the Spiced Bayou Rum (hailed by some Pyrates "as better than all competitors") contains classic, traditional, spices featuring Louisiana grown ingredients…and one SECRET INGREDIENT! We must add that they have probably the most excellent logo o' any spirit company…featuring both a grinning Gator and a traditional Bayou Pirogue!
Louisiana Spirits / Bayou Rum are Official Sponsors o' NOLA Pyrate Week and will be joining us for some Rum sampling and sales! Most definitely Pyrate Approved™