Throughout NOLA Pyrate Week we promote many locations & events to highlight New Orleans and Louisiana art, music, food & culture. We encourage ye to join us on these adventures! While not everything may be listed here, join the email list and/or follow ouer social media accounts to keep up!
Fri. 30 Mar. (9pm until…) / Pirates Alley Café & Olde Absinthe House: Welcome to the 10th annual NOLA Pyrate Week! Join the Crew at our "HQ" (aka favourite gathering spot), hosted/catered by our good mates (and proprietors) – the lovely Thais "La Reina de El Callejón" Solano & the ever dapper Tony "Cadillac" Seville. Light snacks, fine libations & camaraderie – on some o' the most historic cobblestones in New Orleans! Dress for the occasion and bring yer doubloons…it's always a night o' merriment & tales o' adventure.
Sat. 31 Mar. (10am) / Croissant d'Or Patisserie, 617 Ursulines St. – between Royal & Chartres: Pyrate Brunch! Join us as we visit our culinary mates to enjoy traditional French Pastries, Quiches, Cakes, Sandwiches, Soup du Jour, a selection o' Coffees and more at this old world Patisserie!
Sat. 31 Mar. (TBA – evening) New Orleans ??? History Tour: Join our crewmate (and internationally renowned Tour Guide) Jonathan Weiss on a leisurely stroll into the darkness…details to follow. This is a ticketed event: Adults $25, Student/Teacher, Military, Seniors, Law Enforcement $18 (not recommended for young children).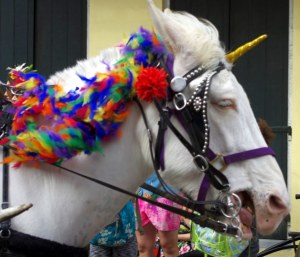 Easter Sunday 1 April (1pm): 35th Annual Chris Owens French Quarter Easter Parade: Nobody loves a parade like the City o' New Orleans! A spectacle o' floats, flamboyance, beads & bonnets! It begins at the corner of Canal and Bourbon Streets, continues across Bourbon Street to St. Phillip Street, rolls down to Decatur Street and back around to Canal Street at the Astor Crowne Hotel. Meet up at Pirates Alley. (4:30pm) The 19th Annual Official Gay Easter Parade – benefiting Food For Friends (a vital program of the NO/AIDS Task Force in New Orleans). The parade showcases the fashion and creativity of the entire LGBT community with gentlemen in summer suits/tux with hats, and ladies in Easter suits/dresses with Easter hats. Truly "giving back" to the community, this parade (minus expenses) has now raised a whopping $286,842.13 for charity the past 16 years!
Sat. 7 April (11:00am 5:00pm): Family Pyrate Day! A fun, free, family friendly event promoting literacy, history and a good time for all in Confetti Park, Algiers Point (ye can take the Canal St. Ferry and walk up) – supporting the initiatives o' our mates, Confetti Kids! Live music from the Whiskey Bay Rovers, local Authors, Entertainers, Artisans, a neighbourhood wide porch sale…and Pyrates! Read more here…
TBA (9am): Pyrate History Day, Town of Jean Lafitte: We journey back to the Barataria Bayou, for the second annual "Pyrate History Day"! We've parleyed with our good mate Mayor Tim (Kerner) and have mutually agreed that this day will be spent teaching the young at the local educational institutions about the legacy and importance that Laffite & his crew played in the history o' the area – and Louisiana in general. "Pyrate Markets", The Battle o' New Orleans, cannons, ships & Freemen…Real History ~ Real Pyrates!™ As it happens, Mayor Tim's family has near as much history in Barataria as Laffite himself – with an interesting twist on the Battle of New Orleans. We also visit the Barataria Museum & Wetland Trace, and possibly some other mysterious, historical locations!
Further Adventures...
Other adventures are always being planned (and occasional adjustment). Join the email list, follow the Captain on Twitter/Google+/
Swarm
, join the Facebook Page to keep up. Social links at the top o' every page!
Every year we go visit the Bayous of South Louisiana…historical home to many different cultures and the true beauty o' Louisiana!
We are honoured to have our good crewmate, Captain Wendy Wilson Billiot (aka The Bayou Woman) as our guide! Journey across a natural lake into the serenity and splendour of a thriving freshwater marsh and one o' the last living cypress swamps in South Louisiana! Your trip through the heart of the most rapidly disappearing wetland in the nation will include seeing areas that are actively washing away, as well as some of the causes of such vivid wetland loss. You will see many varieties of wildlife in their natural habitats including waterfowl, wading birds, alligators, fish, and the infamous nutria.
Ye really must book a Bayou Woman Adventure™ to see this for yerself – visit the Bayou Woman website to learn more!